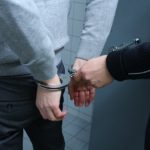 Many arrests usually end without incident. However, we all hear of cases of someone resisting arrest, which can lead to even more trouble. Not only could it lead to more legal ramifications, but one wrong move and it could be life altering or even fatal. It is important to comply with officer demands to avoid any more altercations.
What is Resisting Arrest and the Consequences
In New Jersey, resisting arrest could lead to anything from a misdemeanor, to a crime in the fourth degree, depending on what actions were bestowed.
No Fight: The act of attempting to prevent an officer from effecting an arrest is punishable by six months incarceration.
Fight: Someone who purposefully fights back to prevent an arrest is a fourth degree crime and can be punished with up to 18 months in jail.
Eluding an officer:

Any use of physical force or threat against law enforcement, any means to create substantial risk of injury, or someone who knowingly flees when signaled to stop a motor vehicle, can face a crime in the third degree and could see up to five years in prison.
If there is fighting and an attempt to elude, which creates a risk of death or injury to any person, this is a crime in the second degree, which includes up to 10 years in prison.
Defenses
Although resisting arrest can look very bad, you as a citizen still have rights that can be defended. Possible defenses can include self defense or an officer using excessive force. Plus, if the officer does not follow protocol and the specific procedures when they're conducting an arrest, it could be a case of police misconduct, and the officer would be disciplined. However, it is important to know that an unlawful arrest is not a proper defense, if the officer did not use excessive force. That being said, even if you're being wrongfully arrested, you should still not resist.
Trust Catanzaro Law
If you find yourself facing charges of resisting arrest, it is important to have proper representation in the court of law. We at Catanzaro Law understand your rights, and know how to battle the legal system. We have experienced, professional attorneys who will do their best to defend your case. If you're facing charges, contact our law office today for a free consultation!