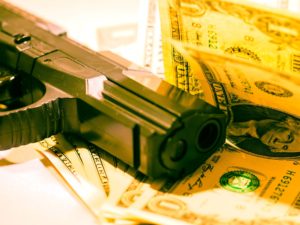 Robbery is a very serious criminal offense in New Jersey. If you've been charged with this crime, it is extremely important that you speak with and hire a Trenton criminal defense trial lawyer as soon as possible in order to protect your rights from the very beginning. Mark Catanzaro has experience in many different areas of criminal law, and robbery is no exception.
A Robbery Conviction Can Have Serious Effects on Your Freedom
Robbery isn't considered your basic theft offense. It constitutes a violent criminal charge. New Jersey penalizes those convicted of robbery quite severely.
Robbery is defined as inflicting harm or force on another, or threatening harm or force in the commission of a theft. As any Trenton criminal defense trial lawyer will tell you, there are two classifications of robbery in New Jersey:
First degree robbery: This is when you are armed at the time of the act, or if you inflict serious bodily harm (attempted or actual).
Second degree robbery: This is for any other robbery charge.
The penalties for a robbery conviction are very serious. For a second degree robbery conviction, you could face 5 to 10 years in prison and a $150,000 fine. For a first degree robbery conviction, you could face up to 10 to 20 years in prison. While you could become eligible for parole eventually, New Jersey law requires that you serve 85% of your prison sentence for a first degree or second degree robbery conviction.
As with any criminal case, the prosecution carries the burden to prove his or her case beyond a reasonable doubt. Here's what they must prove in a robbery case:
Attempted or actual theft
Threatened or actual use of force during the commission of that theft
Said threat of or actual force occurred during the theft or during the flight from the theft
Said actions were intentional
Only after all four of these elements are proved beyond a reasonable doubt can a jury convict a defendant of robbery. If a prosecutor fails to prove even one element, he has not met his requisite burden. That is why it is imperative that a defendant accused of robbery obtain a skilled Trenton criminal defense trial lawyer to develop a winning defense strategy. The sooner he can get to work, the better!
Need A Trenton Criminal Defense Trial Lawyer? Here's Who To Contact…
If you're in immediate need of a Trenton criminal defense trial lawyer, you need to contact Mark Catanzaro right away. He's a skilled attorney with over 30 years of experience in defending his clients in similar situations. Don't wait – call today!