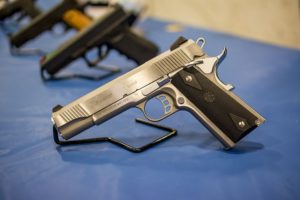 So you want to sell one of your guns to one of your buddies. Is it legal? Do I have to do it through a licensed gun store? Who can I not sell it to? For the next few weeks, we will be doing a series on gun laws in New Jersey so that you can be well informed. Think of Catanzaro Law as your one-stop for everything you need to know about gun laws in New Jersey. This week, we'll be covering private sales. Check out the information below and be sure to reach out to us if you have any questions or concerns.
Background Checks
First, the question for most people is, "Do I need to do a background check?" The answer is yes. In order to buy handguns, even in private sales, the buyer first needs to obtain a permit. So, in order to buy shotguns or long guns, the buyer first needs to obtain a Firearms Purchaser Identification Card (FPIC). Acquiring a permit and an FPIC both involve background checks AND fingerprinting. Thus, if you sell a gun to someone without the necessary permit or ID card, you have broken New Jersey law. Unfortunately, pleading ignorance would not be upheld in the court of law.
Furthermore, not only are background checks required in private sales, but all sales must be conducted through a Federal Firearms Licensee (FFL). That is, all sales have to go through a federally licensed gun dealer. A good rule of thumb here is, "From FFL to FFL. No exceptions."
Out-of-State Residents
Second, can you sell your gun to someone who is not a resident of New Jersey? No. If you sell your gun to an out of state resident, you've actually broken a federal law and not just a state law. In order to sell to an out of state resident, you must conduct the sale at an FFL in New Jersey, who will then contact an FFL in the buyer's state, and the buyer can pick up the firearm at the FFL in his state. "From FFL to FFL. No exceptions."
Are You Eligible?
Last, in no state are you permitted to sell a gun to someone you know is a convicted felon, or who has the intent of using the weapon to harm others. Thankfully, in the state of New Jersey, legally required background checks are one way to help with this. However, from a legal defense standpoint, it is always wise to ask the buyer the reason for their purchase, and to have that on record.
Violated Gun Laws in New Jersey? You Need Legal Representation!
If you've violated a New Jersey gun law, it's important to get competent legal representation! Contact Mark Catanzaro today. With over 30 years of experience, he's the attorney you need for your case.