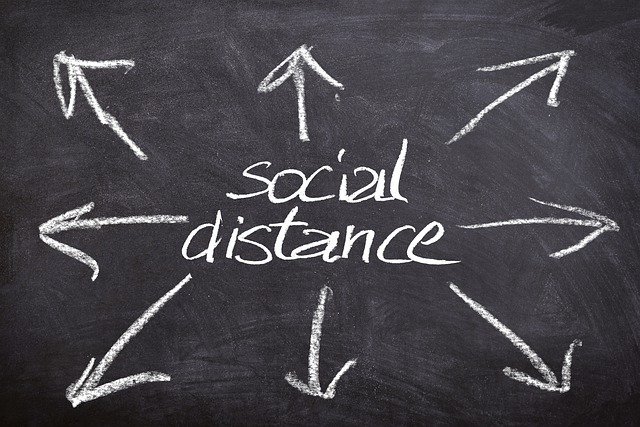 Maybe you've heard about some of the cases of people getting arrested for not following social distancing rules. Whatever you think about social distancing rules – whether you think they're violations of our rights, are important rules to follow, or a little bit of both – it's important to know them! So, along with washing your hands and staying home, you can do your part to help prevent the spread of COVID-19. In today's blog, we'll give you some tips for social distancing.
General Tips for Social Distancing
First, let's give some broad tips for social distancing. The following comes directly from the Center for Disease Control. You can find more in-depth information here.
Follow guidance from authorities where you live.
If you need to shop for food or medicine at the grocery store or pharmacy, stay at least 6 feet away from others.

Use mail-order for medications, if possible.

Consider a grocery delivery service.

Cover your mouth and nose with a cloth face cover when around others, including when you have to go out in public, for example to the grocery store.

Stay at least 6 feet between yourself and others, even when you wear a face covering.

Avoid large and small gatherings in private places and public spaces, such as a friend's house, parks, restaurants, shops, or any other place. This advice applies to people of any age, including teens and younger adults.
Children should not have in-person playdates while school is out.
Work from home when possible.
If possible, avoid using any kind of public transportation, ride-sharing, or taxis.
If you are a student or parent, talk to your school about options for digital/distance learning.
Why Following Tips for Social Distancing is Important
Second, some people might find these tips either ridiculous or even unjust. Nevertheless, they're important to follow for now. We live in a society; we're not just individuals. So we need to help one another. The reason why tips for social distancing exist is not only to protect you, but also those more vulnerable to catching COVID-19. For example, even if you don't have COVID-19, you still might carry coronavirus. In other words, the virus might be in your system or on your person without you being sick from it. That's how the flu spreads, for example. But if you follow these tips, you won't get more vulnerable people sick.
Need an Attorney?
Finally, if you want more information on tips for social distancing, click here. But if you need a quality defense attorney, contact the Offices of Mark Catanzaro!