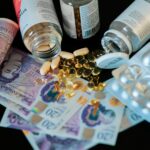 Just to be in possession of illegal drugs can be cause for legal prosecution. However, there are even more damaging repercussions for being found guilty of distribution, or the intent to distribute the same illicit drugs. There are serious consequences to the selling and moving of illegal substances, and people should think twice before looking to make some extra cash by doing so.
Defining Distribution
Drug distribution refers to all sorts of selling, trafficking and relocation of illicit drugs, and can include either large or small amounts. Whether you are moving large amounts across state lines or national borders, or transporting them from safe houses to the point of sale, or even the simple distribution directly to buyers, you could face some serious consequences. Even being found guilty of the intent to distribute can have you facing legal charges. Evidence for the intent to distribute can include being found with digital scales, large amounts of baggies, or lists of street dealers. Even without being caught in the act of distributing, the wrong items on your person will still get you into trouble.
Different Drugs and Their Charges
There are a few elements that can determine the charges that one might face when it comes to drug distribution. This includes the type of illegal substance, and how much of it there is. Below is a general overview of the most commonly found illegal drugs, and the charges associated with them:
Marijauna

25lbs or more: 1st degree crime
5-25lbs: 2nd degree crime
1oz. -5lbs: 3rd degree crime
Less than 1oz.: 4th degree crime

Heroin or Cocaine

5oz. or more: 1st degree crime
1/2oz. to 5oz.: 2nd degree crime
Less than 1/2oz.: 3rd degree crime

Other Schedule I or II Narcotics

1oz. or more: 2nd degree crime
Less than 1oz.: 3rd degree crime

Methamphetamine

5 oz. or more: 1st degree crime
1/2 oz. – 5 oz.: 2nd degree crime
Less than 1/2 oz.: 3rd degree crime
Crimes in the first degree can get you 10 to 20 years in prison. Crimes in the second degree can see between 5 and 10 years in prison, while crimes in the third degree are met with 3 to 5 years in prison. 4th degree crimes are generally cause for large fines and other disciplinary actions.
Have Proper Representation
A drug distribution charge can be life changing, and will have you facing some serious consequences if found guilty. We at Catanzaro Law understand the importance of having the best legal representation, which is why we're dedicated to serving you. Our professional, experienced attorneys know the laws inside and out, and can properly defend your case in the court of law. Contact us today for a free consultation, and trust us to represent you when it matters most!