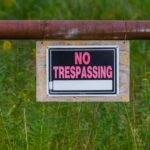 In the state of New Jersey, and the United States, we as citizens are free to go wherever we please. However, this freedom is limited to public property, and you could find yourself in some trouble if you're found on private property when you're not welcome. This is known as trespassing, and while it may seem like a harmless act, it can lead to some serious consequences.
Defining Trespassing
To be convicted of trespassing in New Jersey, it must be established that the defendant entered or surreptitiously remained in a structure or place, knowing they had no right to enter or remain there at the time. This can be any kind of building, room, car, ship, airplane or any place adapted for overnight accommodation. "Surreptitously remained" refers to anyone staying in an enclosed space with secret or stealthy intentions. There is a related charge, known as peering, where it does not need to be proved that the defendant entered any enclosed place, but merely peered into the dwelling. This is cause for prosecution when the defendant knew they had no right to do so, and with the intention of engaging in conduct that invades the privacy of another.
The Consequences
If the crime occurred in a school or on school property, in a research facility, or public sewage or water treatment facility, it is a crime in the fourth degree. This is cause for up to 18 months in prison and a possible $10,000 fine. If trespassing occurs on any other property, it is a disorderly persons offense, with up to 6 months in jail and $1,000 in fines. If the trespasser knows that they have no permission, was given a notice, or bypassed a posted sign or enclosed fence, this is a petty disorderly persons offense, which is punishable by a fine of up to $500. Being found guilty of peering is a crime in the fourth degree, resulting in 18 months and up to a $10,000 fine.
Have a Proper Defense
If you have been charged with trespassing or peering, it is important to get the right legal representation. There are valid defenses against the crime, such as entering a structure that was abandoned at the time, or that the structure was open to the public and the defendant was there lawfully. Additionally, it can be argued that the defendant reasonably believed that the owner of said property would have allowed that person to enter and stay there. We at Catanzaro Law are experts at interpreting the law and finding ways to prove your innocence. Our years of experience, along with professional training, will ensure that you are confident in your defense. Contact us today for a free consultation, and trust that we will properly represent you!