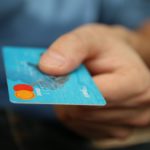 In the state of New Jersey, credit card fraud can lead to a felony under the right circumstances, which means it is not something to be taken lightly. Although there are a number of laws that relate to credit and debit card fraud, they generally fall under two different categories. The first being how a credit card is obtained, and the other being how it is used.
Illegally Obtaining a Credit Card
There are a few things deemed illegal when obtaining a credit card. The first is simply by lying. When applying for a credit card, whichever company you choose, knowingly providing false information can get you into some trouble. Things like lying about your identity or your financial condition is enough to be considered credit card fraud. The information you provide when applying for a credit card can be easily checked, meaning it won't get you far if trying to undermine the law. Furthermore, fraudulently making your own credit card is considered credit card fraud as well. Falsely making a purported credit card, or using one, with the intent to defraud the issuer, or anyone providing goods and services is illegal, and will lead to costly consequences.
Credit Card Theft and Fraudulent Use
When you get a credit card legally, it is bound to your name and your name only. This makes it illegal to take or use someone else's credit card without their permission. This also falls under theft, which can have compounding repercussions. Under New Jersey Law, you can be charged if you have two or more credit cards with names other than your own. Additionally, taking a known stolen credit card, with the intention to use, or pass it on to someone else, is also illegal.
Additional Types of Fraud
On top of the aforementioned laws, there are other acts that fall under credit card fraud. These laws include using false statements to get a card. This relates directly to lying about certain things to obtain a credit card. Also, altering a card, like by increasing its limit without permission, or adding a magnetic strip is considered fraud and will lead to legal trouble. Additional forms of theft include stealing numbers through hacking online, copying from a sales receipt, highjacking an account, or sharing information on internet forums. Another, more sophisticated method is skimming, which involves using a special device to read a card's magnetic strip. All of which is illegal and will come with being charged.
Trust Catanzaro Law
When it comes to credit card fraud, there are numerous laws that can lead to being charged. It is important that, if you are being charged, you have proper representation. Mark Catanzaro know the ins and outs of credit card fraud, and is determined to represent his clients in the best way possible. If you are seeking representation, contact us today for a free consultation, and let us get you the best results possible!