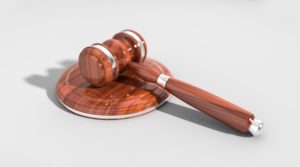 In the state of New Jersey, stalking is a serious crime with serious consequences. Laws about it continue to change and develop nearly every week in order to keep up with trends on the internet. Whether you've been accused of stalking or have been the victim of stalking, you need correct information. Here's a helpful post from the law offices of Mark W. Catanzaro on stalking: New Jersey laws and other information.
Definition and Consequences
New Jersey state law defines stalking as "Purposeful conduct directed at specific person that would cause a reasonable person to fear bodily injury or death to himself or family member and knowingly, recklessly, or negligently places person in reasonable fear of bodily injury or death to himself or family member."
It is a fourth degree crime. However, it becomes a third degree crime if a court already issued an order. This means it classifies as a felony with a state prison term of up to 18 months.
Getting a Restraining Order
If you believe you're the victim of stalking, you'll want to get a restraining order. A history of abuse or violence existing between you and the person stalking you makes obtaining a restraining order in New Jersey fairly easy. However, if you do not know the stalker, then acquiring a restraining order presents more difficulties.
Here's some helpful information to begin the process.
Check here to see if you qualify for a restraining order.
Contact the Family Division of the Superior Court in your county, Monday through Friday from 8:30 a.m. to 3:30 p.m.
On weekends, holidays, and weekdays after 3:30 p.m., and when the Superior Court is closed, you may file a complaint at your local police department.
For more information about the proceedings, click here. 
Stalking: New Jersey Laws and the Lawyer You Need!
If you need an attorney for your case, look no further than Mark Catanzaro! Consider this testimony from a valued client.
"Mark is a brilliant attorney. He really helped me deal with a very difficult situation and was spot on with his advice. I would highly recommend Mark to anyone with a complex case."
Whether your case involves firearms, drug possession, white collar crime, violent crime, stalking, New Jersey laws, or juvenile defense, Mark is up to the task. Contact his offices today!