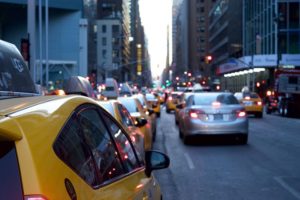 If you're looking for a New Jersey traffic violations attorney, chances are it's not for just any offense. After all, the process for challenging your first speeding ticket or running a red light is pretty simple and straightforward. However, if you're facing DUI charges, license suspension, or prosecution for a hit and run, you need legal support. In this week's post we'll take a look at how legal representation for a New Jersey traffic violation can help you.
Serious Crimes Come with Serious Consequences
Like we mentioned above, a fine for a speeding ticket is simple. But serious New Jersey traffic violations come with serious consequences. Thus, here are some violations for which you may need the help of a professional attorney…
Unregistered vehicle
Driving without a permit or license
Operating a vehicle after suspension or revocation
DUI
Hit and run accidents
Outstanding warrants for unpaid tickets
Reckless driving
Potential license suspension
So, with these violations, you could face hefty fines, license suspension, and even jail time. Don't let the law take advantage of you! You need an experienced attorney to defend your case.
New Jersey Traffic Violations: Your Peace of Mind
Second, for a lot of folks, appearing before a judge in court can be nerve-wracking. After all, it's a cold, stern environment. What if you misspeak? How do you know if your charges are accurate? How do you know if the punishment is fair? Are there ways to decrease the seriousness of your charges?
Moreover, questions like these can be too much for the average person to handle. However, a competent and knowledgeable attorney can handle it for you. So, if you're heading to court for a New Jersey traffic violation, you need a lawyer who can take the burden off of you. After all, there's no price for peace of mind.
How to Find the Right Attorney for New Jersey Traffic Violations
Finally, as mentioned above, the best attorney for a New Jersey traffic violation is one who is experienced, competent, knowledgeable, and shrewd. So how do you find someone like that? It's simple: Contact the Law Office of Mark Catanzaro! With over 30 years of experience and top-notch service, he and his team are the attorneys for you. Don't delay. Contact his offices today.