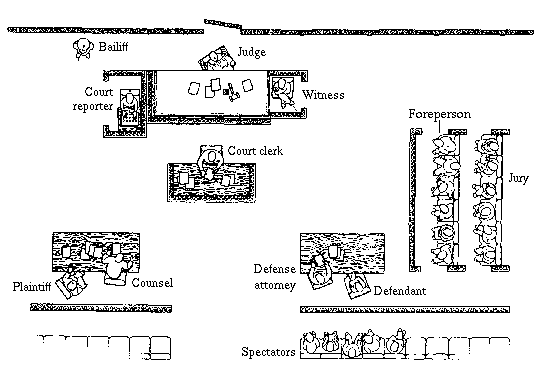 So, in the past we've written several posts on legal jargon to help you understand certain legal concepts. We've also written about basic courtroom etiquette and procedures. With that in mind, this week we're beginning a new series on the most basic parts and proceedings of a courtroom. After all, if you're someone who doesn't understand how a court works, a lot of it might seem random and arbitrary. But if you learn, you can represent yourself better in court. Therefore, today we're talking about courtroom positions.
Courtroom Positions: Prosecution
First, every criminal case involves two sides: the prosecution and the defense. The prosecution is the side that is accusing someone of a crime, and trying to prove that accusation. This side includes:
The plaintiff – the person making the accusation. For example, if you accuse someone of stealing, you are the plaintiff in court.
Counsel – the lawyer representing the plaintiff. If a city, state, or federal government is making the accusation, then the district attorney represents them.
Witness – the prosecution may bring witnesses to testify in favor of the prosecution.
Courtroom Positions: Defense
Second, the other side in a court case is the defense. This side includes:
The defendant – the person who faces criminal charges against them.
Defense attorney – the lawyer representing the defendant, sometimes a public defender.
Witness – the defense may bring witnesses to testify in favor of the defense.
Courtroom Positions: Other
Third, other people working in the courtroom do not represent either side. They do not support one side or the other until the case is heard. These include:
The judge – an elected official who leads the proceedings and declares the verdict.
Jury – local citizens who follow the case and render a verdict about the defendant, whether the defendant is guilty or not guilty.
Foreperson – a member of the jury who leads the jury and speaks on their behalf.
Court clerk – maintains court records and administers oaths.
Bailiff – an official who maintains order in court, and can detain someone if they become disorderly.
Court reporter/stenographer – writes down everything that happens during the proceedings for the public record.
Call Attorney Mark Catanzaro!
Finally, now that you know the basic courtroom positions, stay tuned for upcoming posts about courtroom proceedings. It could be vital to your case! If you need an attorney to represent your case, contact the best: Mark Catanzaro. With decades of experience, he can defend you! So reach out today.