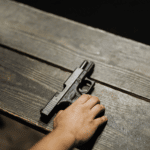 As law abiding citizens, Americans have the right to own and carry various types of weapons for the purpose of their protection and safety. However, with New Jersey having some of the strictest weapon laws in the country, it's important to understand what is deemed illegal in terms of types of weapons, and the way they are carried or transported. Knowing your rights and what the law enforces will ensure that you stay out of legal trouble.
Types of Illegal Weapons
While many associate an unlawful weapon to be just various kinds of firearms, there are plenty of other things that can be defined as a dangerous weapon, which can lead to trouble in the court of law. According to New Jersey, anything deemed "readily capable of lethal use or of inflicting serious bodily injury" is classified as a weapon. Even if it is not used, or if improperly stored, just the possession of an illegal weapon alone can lead to legal ramifications. The first and most obvious weapon on this list includes illegally owned or banned firearms, however certain types of knives, metal knuckles, explosives, slingshots and even a paintball gun can be considered illegal as well. For weapons that may seem unlethal, like the aforementioned paintball gun or something like a stun gun, unlawful convictions can stem from how the weapon is being used and the owner's intent. It is important for someone in possession of such weapons to understand what is considered legal, and also how to properly store legal weapons to ensure they are expressing their rights within the law. For a better understanding of how to do so, specifically for firearms, look at the New Jersey State Police website to learn more.
Weapon Convictions and Their Sentencing
Based on the type of weapons being considered, and how/if they were being used, there are a few different convictions which will lead to various sentences. Here is an overview of what that looks like:
Possession of a handgun without a valid permit:

Crime in the second degree; up to ten years in prison.

Possession of machine gun without a permitting license:

Crime in the second degree; up to ten years in prison.

Possession of a weapon excluding a firearm with unlawful purpose:

Crime in the third degree; up to five years in prison.
Lastly, a person in possession of illegal weapons such as knives, stun guns or metal knuckles is a crime in the fourth degree. This can lead to up to eighteen months in prison.
Have a Clear Understanding of Weapon Laws and Get Help When You Need It
We at Catanzaro Law realize that New Jersey's weapon laws may be confusing and could lead to catastrophic misunderstandings. It is important to go over everything in detail to ensure you are staying within the law and out of legal trouble. If you are in need of a better understanding of what is, and is not allowed, or if convicted of an illegal possession charge, it is vital to get in touch with one of our legal experts. We have the tools, knowledge and experience to lead you in the right direction. Contact us today for more clarification or a free consultation, and let our experts represent you!