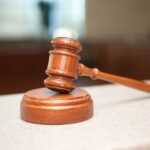 We at Catanzaro Law understand the negative implications of a criminal background. Legal troubles of the past can disrupt a person's right to a normal life, as there can be difficulties finding a job, getting acceptance to college, or inhibit your right to certain things due to a background check. However, there are opportunities to have your criminal records erased, which is known as Expungement.
What Exactly is Expungement?
While the interpretation can change from state to state, in New Jersey, expungement is the removal, sealing, impounding, or isolation of all records on file within any court, detention or correctional facility, law enforcement or criminal justice agency. This means you have the ability to erase any information of your arrest, all court proceedings, criminal and juvenile convictions and the outcome of your case from your criminal record. This essentially offers someone a fresh start, leading to a brighter and more promising future.
How to Start the Process of Expungement
The first step is to obtain a copy of your criminal record. This can be done through the New Jersey State Police, or through the FBI's website. It is important to note that if you have convictions outside New Jersey, the State Police are unable to obtain those records. If that is the case, you should go through the FBI.
Next, you should draft, notarize and file your Expungement Petition.
Once the petition is filed, the following step is to serve the filed expungement petition. This involves mailing it to each of the applicable government agencies.
If necessary, you will then need to appear before a judge regarding your expungement. In most cases, however, this isn't required. Only if a County Prosecutor objects your expungement will you need to appear in front of a judge.
Finally, you must serve your expungement order. Assuming your expungement is granted, you can then serve a copy to all government agencies including all courts, police departments, the FBI and any other agencies that may be holding your criminal records. Once received, these agencies are directed to remove those records from all databases.
Prioritize Getting Legal Help
The whole process of expungement can be a confusing, long and difficult procedure. However, it is very much worth it. It's important to work with an expert to understand everything about how to qualify and how to complete the process in the correct way, without any confusions. Here at Catanzaro Law, we have dedicated, experienced professionals who will help you every step of the way. We can ensure to make the process for you as easy as possible. Get in touch with us today for a free consultation, and let us make your life easier.