The possession of drugs or drug paraphernalia can lead to hefty fines, jail time and other major consequences. It is important to understand how or why you can be charged, and what a conviction means.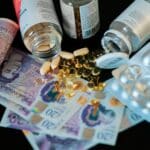 What is Classified as an Illegal Drug?
There are a number of drugs that can get you into trouble if found to be in your possession. Even the unauthorized possession of legal prescription drugs can lead to a drug charge. It's important to know what falls on this list:
Cocaine
Heroin
Opioids
Ecstasy
Methamphetamine
Marijuana
Hallucinogens
Prescription Drugs
Types of Charges and Convictions
Having the aforementioned, controlled and dangerous substances (CDS) can lead to several different charges. These include:
Drug Possession: This involves having any CDS on one's body, or having "controlled possession," which relates to the ownership and control of the drugs. Depending on the amount and type of drug, convictions can vary:

Marijuana: 50+ grams can lead to a 4th degree crime, up to 18 months in jail and a $25,000 fine.
Schedule I-IV Drugs: Any amount can lead to a 3rd degree crime, up to 5 years in prison and a $35,000 fine.
Schedule V Drug: Any amount can lead to a 4th degree crime, up to 18 months in jail and a $25,000 fine.

Intent to Distribute: Along with possession, any attempts, successful or not, to sell or distribute drugs can lead to heavier, more serious consequences.

Depending on the type of drug, and the amount sold and distributed, there are a wide variety of charges and consequences.
Based on type and amount, charges can range from 1st to 4th degree crimes, 18 months to 20 years in prison, and $10,000 to $500,000 in fines.

Selling in a School Zone: If distribution actions are taking place on or within 1,000 feet of a school zone, charges can be increased from those mentioned above.
The Importance of Legal Representation
Although this was a quick overview of New Jersey drug laws and charges, there are countless considerations and other factors that can lead to better or worse outcomes. It is important to have the best understanding of the law, convictions and consequences of such charges, to consider the best possible course of action and defense. Here at Catanzaro Law, we have knowledgeable, qualified professionals that will look over every aspect of your case to ensure the best possible outcome. If you have been charged with any drug related crimes, let us look at your case and consider the best way to navigate a conviction. Visit our website or contact us today for a free consultation, and let us represent you in the best way possible!