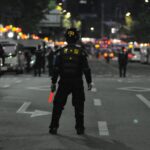 In New Jersey, along with the rest of the country, everyone has the right to protest under the U.S. Constitution. However, this does not mean people are allowed to do whatever they want in the name of their message. While many protests remain civil and do their job of pushing for change, there are still consequences, if taken too far. Unlawful actions while exercising the right to assemble can lead to disorderly conduct and rioting charges, and oftentimes, there is a thin line between what is considered lawful and what is not.
Know the Difference
The First Amendment protects a citizen's right to peacefully assemble (protest) as it is a form of protected speech in the United States. It is important to recognize the key word "peacefully," however, as there may be people who escalate the situation to a point where they are no longer protected by the law. This includes when people start to participate in violence, destruction of property, theft and more. At this point, the assembly that has formed would be considered a riot, and participants can be charged with things like rioting, failure to disperse or disorderly conduct.
Disorderly Conduct, Rioting and Failure to Disperse
When a situation escalates to the point where law enforcement needs to get involved, there are a few things that can get you into trouble. Disorderly conduct generally encompasses most behaviors, like disturbing the peace, loitering, using offensive language in public, fighting in public, and so on.
When things escalate beyond even that, as behaviors become more violent, destructive and dangerous, is when you'll start to see rioting and failure to disperse charges. In New Jersey, rioting is defined as a person engaging in disorderly conduct with four or more people, with the intentions of committing a crime or preventing/coercing official action. It also includes any instances when any of the five(or more) participants use a gun or other deadly weapon. Preventing or coercing official action can include blocking a street, trespassing, or refusing to follow instructions from the police. The latter is where people would be charged with failure to disperse.
The Consequences
For all the aforementioned criminal charges, there are various legal penalties that one could face. This includes community service, fines, restitution charges, and most importantly, jail time. In terms of a rioting charge, it is a crime in the fourth degree. That is unless a participant used a gun or other deadly weapon, where in that case it would be a crime in the third degree, worsening any convictions. While crimes like this won't land you in jail for life, the lasting effects will follow you throughout. Being arrested and convicted for such charges can worsen your chances of employment, getting a loan, applying for professional licenses and more.
Have Proper Representation
When it comes to being charged with crimes such as disorderly conduct or rioting, we at Catanzaro Law understand the gray area between lawful and unlawful. Let our trained, experienced attorneys navigate the confusing laws in order to properly represent you. Our passionate team is dedicated to defending your rights. If you have been charged with such crimes, contact us today for a free consultation and feel confident you're getting the defense you deserve!