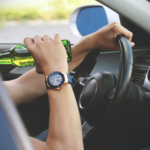 The worst thing to do after enjoying a few drinks can be to get behind the wheel of a car. New Jersey's drinking and driving laws, collectively known as driving while intoxicated (DWI), are set in place to keep accidents from happening and will lead to major penalties if charged. It is important to remember the science, and the law, before you think about driving while impaired. An impaired driver has slower reaction times and worse judgment, which can endanger themselves and others.
The Law
There are technically two different ways you can be charged with a DWI. The first is to flat out have a blood alcohol content (BAC) of .08 percent or higher. This can be determined through tests, sampling either blood, urine or even the breath. The other, considered "Per Se," depends solely on whether or not a police officer determines if you are impaired or not, without requiring a test. The technical limits can change slightly, as commercial drivers cannot exceed .04 percent BAC and anyone under the age of 21 can be charged if they exceed .02 percent.
Sobriety Tests
A typical procedure to determine if someone is impaired is to put them through a series of field sobriety tests (FSTs). This generally comes before a breathalyzer test, where the officer will walk the driver through a series of tests to observe their physical ability, attention level, balance and other factors to determine if they are impaired or not. If the officer has determined you are impaired, this is when they might continue with a BAC test, using blood, urine or the breath to determine if you are past the legal limit. While refusing a chemical test is within your rights, doing so will automatically lead to your license being suspended, and you can still be charged with a DWI without it.
The Penalties
A typical consequence for a first time offender usually comes in the form of a $200-$400 fine, and potential jail time. The defendant would also need to attend a class called "Intoxicated Driver Resource Center," and will most likely lose their license for up to a year. Repeat offenders can see the punishments grow exponentially, face prison time, and have their license permanently suspended. Things can get worse, however, depending on some circumstances. A judge may require you to install an ignition interlock device on any vehicle you may be driving. This is usually the case if you had a BAC of .15 percent, there was a child in the car at the time of your DWI, you've had prior convictions, or if you refused a chemical test. Lastly, it is important to know that as your BAC gets higher, so do the consequences you might face.
Have Proper Representation
Being convicted of a DWI can lead to costly, life changing consequences. It should be a top priority to defend yourself in the court of law the best way possible. We at Catanzaro Law understand this, and have the knowledge, experience and resources to help you with the legal battles you may be facing. Our trained, professional attorneys know the law, and can defend your case in the best possible way. If you are someone you know has been charged with a DWI, don't hesitate to contact us today for a free consultation, and trust us to make the best out of your circumstances.