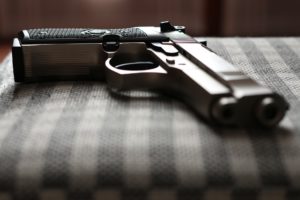 The state of New Jersey holds some of the strictest guns and weapons laws in the country. Sometimes, just the possession of a certain weapon is a crime in and of itself. Other times, being in possession of a weapon increases the severity of another crime, such as armed robbery. Being charged with a guns or weapons offense can have serious consequences and requires careful review of the facts in order to craft a winning defensive strategy. That's why it is important to get in touch with a Trenton weapons attorney as soon as possible.
Types of Guns and Weapons Charges
The word "weapon" is an intimidating word. You might think that a weapons charge is reserved for extremely destructive devices used in an aggressive or threatening manner. However, there are many actions that would fall under a weapons offense, such as:
Possessing illegal weapons
Imitation gun, BB gun, airsoft gun and paintball gun offenses
Possessing a legal gun without the proper permit
Juvenile possession of a weapon
Possession of a weapon by a person who is not permitted to have them (convicted felon, someone on probation, etc.)
Possession of a firearm for an unlawful purpose
Possession of a weapon while at a school
The most common offense for which you would need a Trenton weapons attorney is for possession a handgun without a permit to carry. This is a second degree offense and requires a minimum of 5 years in state prison, without eligibility for parole for three years. You should be aware that it is very difficult to obtain a permit to carry in New Jersey.
While these are serious offenses and carry significant consequences (including prison time and high fines), an experience Trenton weapons attorney can help lessen your charges or dismiss them altogether if warranted. Examples of defenses include an illegal search or first time offender.
A Trenton Weapons Attorney To Help
If you or a loved one has been charged with a guns or weapons offense, contact a Trenton weapons attorney immediately. Mark Catanzaro is a skilled and experienced weapons attorney in Trenton and is ready to discuss your case with you. He'll explain the legal process and what you should expect. A review of the facts will help him determine the best legal approach for your particular situation.
Keep mind that it is not wise to represent yourself in court. You might think you're saving money, but it will cost you much more in the long run. Call Mark Catanzaro today to schedule a free consultation.