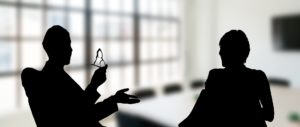 As a Mercer County criminal defense lawyer, I do my best to help my clients out of less than ideal situations. Regardless of how or why you end up in my office, my job is to listen and to defend your constitutional rights. However, you as the client also have some responsibilities and a part to play in the process. In order to obtain the most favorable results, I need you to help me help you.
How To Help Your Mercer County Criminal Defense Lawyer
Many times, defendants think that because they're paying their Mercer County criminal defense lawyer, there's nothing they themselves have to do other than show up to court. But in reality, there are many things that you as a defendant can do (or not do) to place your lawyer in a better position to help you.
Remain Silent. The Miranda warning the police give you when placing you under arrest gives you the right to remain silent. Exercise that right! You will likely experience a great amount of anxiety during your arrest, but refrain from trying to share your side of the story. You never know what could come back to hurt you, because what you say can and will be used against you. Save your version of the facts for your lawyer.
Listen to your Lawyer. Many defendants want to continue to explain and describe the events, express their fears, etc., but it is very important to stop and listen to your lawyer. They may redirect you in ways you didn't realize were important or relevant. Also, listen to your lawyer's questions and try your best to provide clear answers. The better you listen, the better information you can provide to your lawyer to help your case.
Provide Witness Information. Try to compile a list of helpful witnesses to your case. Providing this list to your lawyer, along with contact information, will be a great start.
Always Be Honest. Remember, your lawyer is your ally. They are your legal representative and will work hard to defend you. But you must always be honest about your case and the events leading up to your arrest. If your lawyer relies on something you say and it ends up being a lie or misrepresentation, it can be very harmful to your case.
Call Mark Catanzaro For Legal Representation
As your Mercer County criminal defense lawyer, I have many roles to play. In order to develop a winning defense strategy, I'll need your help. Abiding by the above guidelines will be a great start.
Mark Catanzaro is a top Mercer County criminal defense lawyer, will over 30 years of experience in all criminal matters. If you've been charged with a crime, have questions, or need something expunged from your criminal record, you should speak with an attorney. Call today to schedule a free consultation.