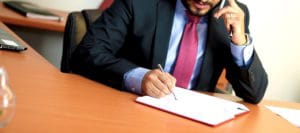 Based on movies and TV shows, many people often think of criminal defense lawyers as the sneaky character in the courtroom who shouldn't be trusted. But you shouldn't believe everything you see in the movies. On the contrary, legal counsel for defendants play many very important roles in the justice system and protect citizens from government agents who might otherwise violate their constitutional rights. It isn't always easy to find the right Mount Holly criminal defense attorney to hire, but you should remember that it is extremely important to have professional legal representation if you've been charged with a crime.
If Hollywood has affected how you think about criminal defense attorneys in Mount Holly, keep in mind that they will do much more than just sit next to you in court and ask a bunch of questions in front of a jury.
What Will Your Mount Holly Criminal Defense Attorney Actually Do?
No one wants to face criminal charges, but if you do, the most important thing for you is to make sure you hire an experienced Mount Holly criminal defense attorney. What will your attorney do, one might ask? His priorities will include communicating with the prosecution, witnesses, and other key players in the criminal justice system; developing winning defense strategies; and preventing you from having to pay fines, serve prison time, and amass an extensive criminal record.
What else will your Mount Holly criminal defense attorney do for you?
Strategize. A criminal defense attorney in Mount Holly must always be one step ahead of the prosecution. He must have a thorough knowledge of the case and the relevant laws. With hours and hours of preparation, and the skill of persuasion, he will strategize how to best present your case.
Educate. Another important job is to educate you, the client, on the particulars of the law, the court system, how to conduct yourself in the courtroom, how to handle cross-examination, etc.
Negotiate. Most cases don't actually go to trial but settle beforehand. Your attorney must weigh the likelihood of a conviction or acquittal against the particular facts and circumstances of the case. If securing an acquittal seems unlikely, your attorney may try to negotiate a favorable plea deal. This could include a diversionary program for first time offenders, or probation instead of jail time. Your Mount Holly criminal defense lawyer will always discuss your options with you.
Call Attorney Mark Catanzaro Today
The criminal process can be confusing and intimidating, but you don't have to face it alone. It is best to hire a Mount Holly criminal defense attorney right away. Mark Catanzaro is a highly skilled criminal defense lawyer in Mount Holly who has 30 years of experience and fights to obtain favorable results for his clients. Contact him today to set up your free consultation.